Dianna Agron Nintendo 3DS
Dianna Agron Spills Her Gadget Must Haves and Secret LOLcat Obsession
She made her name singing on Glee, but now Dianna Agron's branching out beyond her TV beginnings with a popular art website, a feature film by a sci-fi legend, and a turn with video games as a spokesperson for Nintendo 3DS. An online media maven in the making with the site You, Me & Charlie, Dianna finds the organic crowd-sourcing of the Internet the perfect place to explore and share art of all mediums.
"The beauty of You, Me & Charlie is a lot of the suggestions come from our readers," she says. "We wanted to create a site that was collaborative and introduce people to art they never knew about. It's so nice to have all these artistic mediums to really encourage and promote artists, because whether it's full time work or something you do just recreationally, art influences all of our lives."
In fact, it's her well-known love of art that brought her to the Nintendo 3DS "Play As You Are" campaign, a promotion to show people that never thought of themselves as "gamers" a line of casual games that'll instantly redefine the term. "With games like Art Academy: Lessons for Everyone! you can learn techniques actually covered in school art classes that I didn't even remember," Dianna explains. "I'm a charcoal-drawing girl, in real life and on the game. It's great that there's the 'gamer' games . . . and now the educational games, the whole gamut."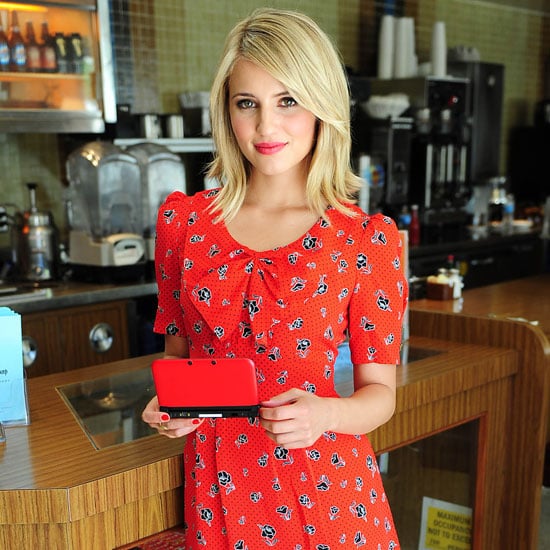 In between sourcing emerging artists and creating mini-3DS masterpieces, Dianna is moving forward with her big-screen career, having just wrapped filming of Luc Besson's — director of The Fifth Element, one of her favorite movies — new film, Malavita, in Paris. Dianna says of her time working alongside Luc and Hollywood heavyweights Robert De Niro and Michelle Pfeiffer, "You couldn't be In Paris for those three months and not walk away with the most rewarding experience ever."
Being our typical gadget fiend selves, we had to know what sort of gadgets the actress/gamer/artist/photographer would never travel to Paris without. Get ready for some major camera envy!
Read on for Dianna's secret online obsession and a behind-the-scenes look at the Nintendo commercial.
Pinterest — "I didn't understand it at first, and then I started creating my own boards and now I'm addicted."
Internet Catz — "I do have a weird obsession with cats online — cat pictures, cat videos, they're really funny and strange. I spend a lot of time on stuff like that." (Internet cat obsession? Tell us about it!)
Photo Courtesy of Nintendo