Digg Reader
Digg's Google Reader Alternative Launches This Month
Google's beloved RSS feed aggregator, Google Reader, is heading to the cyber graveyard on July 1. But there's no need to lament, since Digg, the up-vote, down-vote social news site that was forced to shutdown in 2010, is returning to the web with a reader of its own!
The Digg engineering team posted the first screenshots of its Google Reader replacement, which launches publicly on June 26.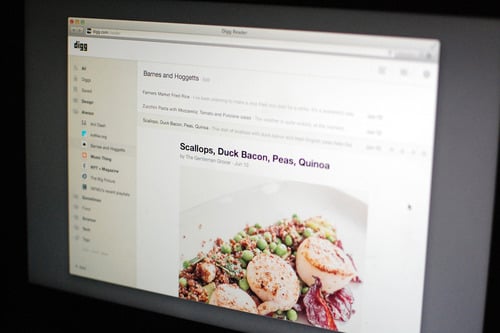 When Digg announced their reader in March, they hoped to "identify and rebuild the best of Google Reader's features" and anticipated a late 2013 release date. Apparently, production was sped up to roll out Digg Reader ahead of Google Reader's July end date to make migration as seamless as possible.
What can you expect from the new RSS feed aggregator? A site that's simple, fast, optimized for any screen size, free (with premium paid options later in the year), and as socially conscious as Reddit, Tumblr, Twitter, and Facebook.
Sign up to be notified when the new Digg Reader has arrived, or if you need an alternative right this second, turn to one of these RSS aggregators fit for headline grazers.
Be sure to export your Google Reader data (subscriptions, bookmarked items, notes and all) before July 1 at dataliberation.org.