Digital Tips For Moving to a New Apartment
My 5 Essential Tech Tools For Relocating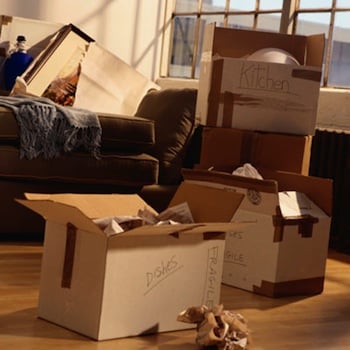 Moving can be such a hassle, but it doesn't have to be painful. Over the course of the last month, as my apartment hunt has gone into full swing, I've discovered that these five tech tools can be a lifesaver when it comes to saving up, budgeting, selling off my unused items, and even taking a virtual tour of apartments from miles away. Check out my most-used digital tools, then share with us the apps and sites you have used to help you move!
PadMapper — Recently recommended to me by a co-worker, PadMapper has helped me save lots of time by aggregating more available units (via Craigslist, Apartments.com, and other rental agencies), and placing them on a Google Map for easy location browsing.
Ustream — My husband and I couldn't make an open house at the same time, so he streamed the apartment tour on Ustream so I could see it in real time. The best part is, I could comment via the chat feature to ask questions and hear the conversations as if I were really there.
Ebay For iPhone — Since we're moving to a smaller place, some of our precious gadgets and gizmos have to go. Instead of dealing with the hassle of negotiation and no-shows on Craigslist, we started selling some of our goods on Ebay. The app has streamlined our process, since you can upload pics from your iPhone and list your item right on your mobile device. Plus, you can check on the status of your items and get alerts when someone has bid or bought instantly.
See the rest of the list after the jump.
Mint — Prepping for a move takes time, especially when you're saving up for big deposits. We have always used Mint to manage our household budgets, but it was especially helpful during this time so we could visually see where we were wasting money, where our expenses were, and how much we could really afford to spend on a new apartment.
Yelp — Didn't think Yelp could help you with your move? Think again! We saw photos of an attractive apartment online, but after visiting the location and meeting the manager, the situation seemed a little shady. We checked up on the rental agency that runs the building on Yelp, and found that they've recently been sued multiple times for withholding deposits, overcharging, and not responding to essential maintenance requests like a lack of water and heat, and locks being broken on the front gate (leaving the mail boxes totally exposed). Who would want to live in a place like that!?