Do We Rely Too Much On Facebook and Twitter For News?
Uh-Oh, Do We Rely on Twitter and Facebook Too Much?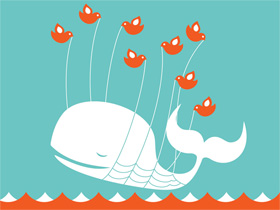 A commentary recently posted on CNN's website urged readers not to rely solely on other platforms like Twitter and Facebook to communicate important messages. The author, a nonprofit director and web strategist, says,
"The Internet was designed to have no central point of failure, allowing anyone to run his or her own communications channel. This was a system that could withstand a nuclear attack.Today, the services built on top of that network have done a great job in enabling communications, perhaps none more dramatically than Twitter."
Meaning when Twitter goes down, our lines of communication could conceivably break down, too. I see the point, after all, every time there's a Twitter outage that lasts longer than a couple of minutes, #whentwitterwasdown becomes a trending topic almost immediately. But I think it's a little presumptuous to start warning people against relying too heavily on the service. In a time when news and important information is readily available through many different outlets, I think the danger of becoming too dependent on one source is pretty low. What do you think?