Do Women Use Ereaders Over Tablets?
The Changing Face of Gadget Owners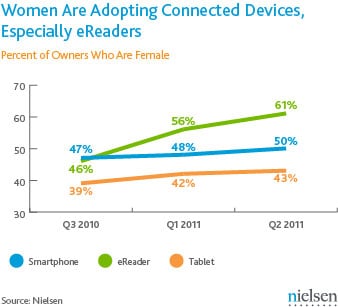 Can gadgets ever be decidedly female or male? While we've seen companies design technology specifically for women, we haven't heard too much about a gadget being more popular with one gender over the other.
A new survey from Nielsen shows females are the predominant owners of ereaders while men own more tablets. Women make up 61 percent of ereader users and only 43 percent of the tablet users.
While the survey doesn't go into more details about why women seem to prefer ereaders over tablets, some have speculated women read more books and have more use with a single-purpose device.
In addition to voting for your gadget below, why do you think there is such a noticeable difference in the gadget choices of the sexes?