Do You Get Spam Text Messages?
Do You Get Spam Texts?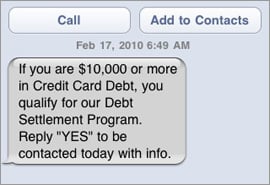 I consider myself one of the lucky ones whose phone number hasn't ended up on too many random telemarketer lists — besides that annoying one earlier this year telling me the warranty on my non-existent car was going to expire. But bright and early this morning I was woken up by my iPhone's text message alert. When I picked up the phone to see who was texting me so early, I saw what is basically a commercial for a debt settlement program. No, I don't have $10,000 in credit card debt, thanks.
I have no idea how these people got my number; but I hope it doesn't happen again. I can't deal with an inbox full of spammy text messages on top of all of the email spam I receive. What's next, text message spam filters? Has this ever happened to you? Is there a way to get them to stop?