Do You Get Too Distracted by Your Cell Phone?
Have You Suffered From "Inattention Blindness"?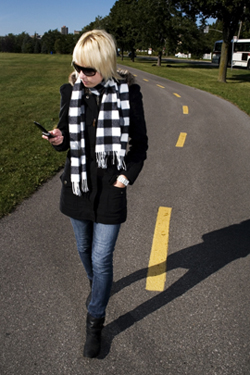 Obviously texting and driving is a big, fat, dangerous no-no, but texting and walking? Apparently it can be quite hazardous! According to an article in the New York Times, "more than 1,000 pedestrians visited emergency rooms in 2008 because they got distracted and tripped, fell or ran into something while using a cellphone to talk or text." The article lists a few examples, from the teenager who ran into a street pole while texting to a man in his 60s who fell off of his front porch while talking on the phone.
Thankfully I've yet to suffer any distraction-related injuries, but will cop to a few close calls with other pedestrians while walking down the street and using my phone. A psychology professor quoted in the article calls the phenomenon "inattention blindness," meaning a person can be looking at something but simply not process it due to distraction. Has this ever happened to you? And have you ever suffered any real injuries while using a gadget because you weren't paying enough attention to your surroundings?