Do You Like Tech On TV?
Do You Like Tech on TV?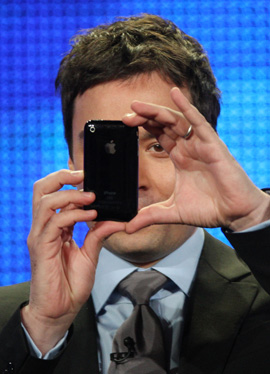 It's been a year since Jimmy Fallon told fans he was planning to bring some geek to his late night talk show. I'm not an avid watcher, but this week I managed to catch a few episodes (mostly thanks to my desire to catch Conan's last week on the Tonight Show).
Two things I noticed immediately: Jimmy Fallon loves both his iPhone and his MacBook Pro — it sits prominently on his desk through the whole show. His iPhone makes plenty of appearances, too; from sketches about real and fictional apps (if you like that segment, you'll love this quiz) to texting on-air.
It doesn't seem like product placement to me, I think he generally uses and loves these gadgets, and I love that he incorporates them into his show. I also love that so many talk show hosts reference services like DVR and Hulu, recognizing that not all viewers watch their shows on live TV; it makes for a modern and realistic watching experience. What about you? Do you think these techy details add to a show, or would you rather they stick to other programming?