Do You Remember Playing Girl Talk and Dream Phone Board Games
OMG! Did You Play Girl Talk and Dream Phone?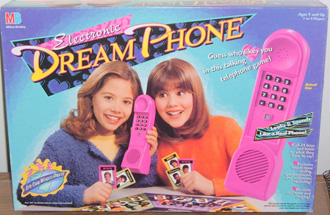 You might be used to playing games on your cell phones, but do you remember these phone-inspired board games from your childhood? I'm not positive how the topic came up, but a little while ago one of my co-workers asked me, "Do you remember the game Girl Talk: Date Line where you had to call up dates on the phone?" I had a vague recollection of sitting around the game board at a childhood sleepover giggling away, but couldn't remember many other details. One quick Google search later, I remembered that my favorite board game wasn't Girl Talk, but Dream Phone!"
In both games, players used a cell phone-like device to call potential dates. I couldn't stop laughing as I pictured my 11-year-old self playing with the clunky, pink plastic phone, completely unaware that just over a decade later I'd be the owner of an actual working phone a fraction of its size — not to mention the number of 11-year-old girls today that carry around the same phone as I do now!
Do you remember any cool tech board games or toys from your childhood? Share with us and post your memories in our Vintage Geek group. Your stories may end up on GeekSugar!
Source: BoardGameGeek