Doctor Who 50th Anniversary Cast
Geek Shot: The Doctors Are In
Huzzah . . . the 10th Time Lord is back! BBC announced that Ten, played by David Tennant, is returning for the Doctor Who 50th anniversary special, which began filming this week.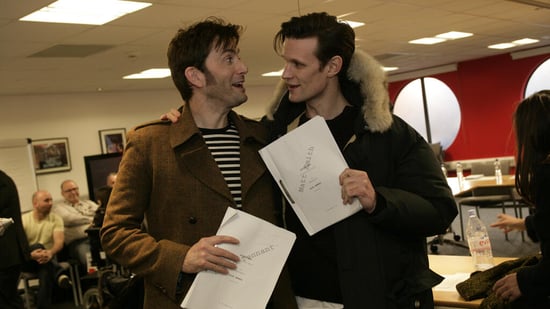 The official Doctor Who Twitter handle shared this victorious shot of David and present Doctor Matt Smith, after finishing the read through for the special episode.
And what's a doctor without his companion? Billie Piper, who played the ninth and 10th Time Lord's companion, Rose Tyler, will also be appearing in the 50th anniversary special. Legendary British actor John Hurt, of Harry Potter and Tinker Tailor Soldier Spy, is joining the star-studded Doctor Who cast as well, although it's unclear what his role will be.
We don't know when the special will air, but we do know that we'll be tuning into BBC America every Saturday to watch the second half of season seven!
See the teaser images of Billie, David, and John after the break.

Billie Piper will play companion Rose Tyler for the first time since 2010.

David Tennant played the 10th Doctor for three seasons and several specials.

Actor John Hurt will costar in the 50th anniversary special.