It's that time of year again . . . San Diego Comic-Con cometh! We're headed to Southern California this week, and we can't wait for all the geekery to begin. But before attending the biggest sci-fi movie and TV event of the year, be sure to make a wish list of all the Comic-Con exclusive offerings — including these BBC America items for fans of Doctor Who, Sherlock, and Orphan Black.
Take a peek at the SDCC exclusives and debuts from favorite shows, available at the BBC America Shop Booth (#3629). For a closer look, click on the image!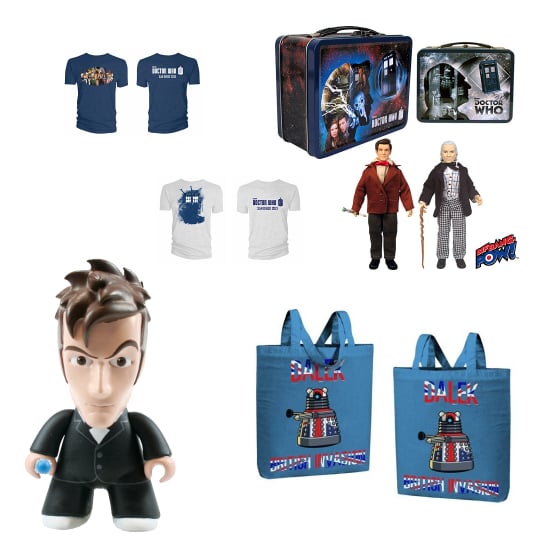 Clockwise from left
Doctor Who: 50th Anniversary T-Shirt ($25) featuring every Doctor since William Hartnell.
Doctor Who: Modern TARDIS T-Shirt ($25) is the winner of the BBC America Shop Fan Poll.
Tin Tote With First and Eleventh Doctor Action Figures ($55) includes three collectibles: a tin lunchbox featuring iconic imagery from the show, a mini version of the First Doctor, and a mini version of the Eleventh Doctor.
British Invasion Tote Bag ($8) proudly displays the Union Jack like you've never seen it before.
Tenth Doctor Tuxedo Vinyl ($10) is based on the Doctor's look from the 2007 Christmas special "Voyage of the Damned."
Offerings for Sherlock and Orphan Black fans after the break!
Left to right
50th Anniversary Sonic Screwdriver Universal Remote ($200) is a gold- and silver-plated version of the Eleventh Doctor's futuristic, magical multifunctional tool.
Ace From Remembrance of the Daleks ($20) met the Seventh Doctor on the planet Svartos and served as the Doctor's companion while battling Daleks on Earth.
Sherlock: Exclusive T-Shirt ($25) has "Get Sherlock" printed on the front and the show's title on the back.
Orphan Black: Exclusive T-Shirt ($25) is the first tee featuring BBC America's new series.
Don't forget to stay tuned for more Comic-Con coverage on our homepage and all of your favorite social channels!