Doctor Who Comic-Con News and Previews
Dinosaurs, Daleks, and Nefertiti: Doctor Who Reveals From Comic-Con
Since Doctor Who's first appearance at Comic-Con last year, its stateside popularity has continued to grow, making it one of the most sought-after panels at the convention. It's difficult to even take a few steps without spotting a costume inspired by the show. From our interviews with the cast — Matt Smith, Arthur Darvill, and Karen Gillan, along with executive producers Caroline Skinner and Steven Moffat — and the Hall H panel, find out what you can expect from season seven (the last with the Ponds!) and the answers to some of the series' long-burning questions.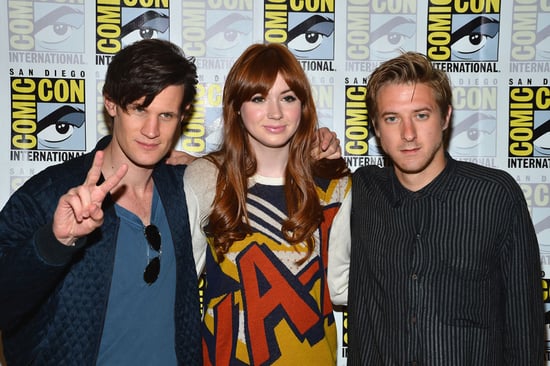 Daleks, daleks, daleks — The extermination crew is back with a major vengeance in season seven's first episode. Expect Daleks bigger than we've ever seen and loads more than have ever fit on the screen before.
Saloon tussles — We knew the TARDIS journeyed to the American Old West this season, but the cowboys aren't so keen on the new folks in town. An extended teaser in Hall H showed the Doctor getting into an old-fashioned saloon brawl (toothpick in mouth and all) for his alien ways.
Dinosaurs on a spaceship — No signs of a Samuel L. Jackson cameo, but an upcoming episode clip showed the Doctor and his "gang" — which includes a lovestruck Nefertiti and a turn-of-the century game hunter played by Sherlock's Rupert Graves — crisscross the far past and future to end up greeted by dinosaurs rushing toward them on a contained spaceship. Think of the Jurassic Park crossover potential!
All in the family — We know Amy Pond was sent to years of therapy as a child for her nonstop talk of a man in a blue box, but as an adult, she's never shown any hint that her or Rory's families are aware of their children's universe-trotting ways. Get ready for an appearance by Mr. Brian Williams (Rory's dad) as he is accidentally scooped aboard the TARDIS and into an adventure.
Big Apple tragedy — Here's what you need to know about the Ponds' final episode as the Doctor's companions: it's the fifth episode of the season, it's set in New York, Weeping Angels are involved, and you will need many tissues nearby for their emotional departure.
Keep reading for more news from Doctor Who at Comic-Con, including who knows the answer to the show's one persistent question.
There's only one person on a first-name basis with the Doctor, and that's currently Steven Moffat. When asked in the panel if the audience will ever, finally, learn the answer to the oldest question in the universe, the man in charge said all will be revealed someday and will include the explanation of why it's such an important question for all races of the universe. But until that episode comes, we'll be left wondering: Doctor Who?
After implying there will be no way for the Ponds to ever return to the show again once they depart this season, Steven told the audience to never trust him. "Why do you trust me?" he asked. "What have I ever done to deserve that?" Touché. After the many seasons of plot curveballs and forever-unanswered questions, it may be time to build a Moffat wall around our fandom hearts.
With the 50th anniversary of the series in 2013, fans are speculating whether we'll see Doctors of yore meet up with Eleven. During the Hall H panel, Steven gave a cagey answer — "I'll never tell." It will certainly keep fans speculating, but then again, we've now learned to never trust him.
Were you in the audience during the Comic-Con panel? What are you most excited about in the upcoming Doctor Who season?