Doctor Who Google Doodle
Allons-y! Play the Doctor Who Google Doodle Game Now
The Doctor Who Google Doodle is the best thing that's happened to the Internet all day. Head to google.co.nz or google.co.uk straightaway to play the interactive game featuring all 11 doctors!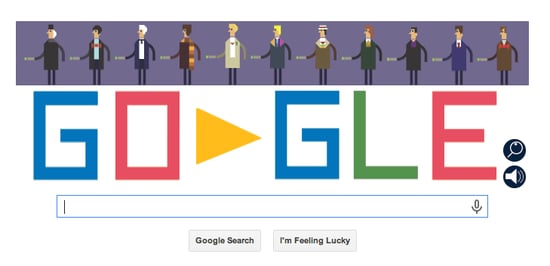 In honor of the 50th anniversary episode this Saturday, Nov. 23, Google New Zealand is commemorating the long-running, iconic British sci-fi show with this amazing, clickable doodle on the homepage.
Play as one of the 11 doctors, and use your arrow keys to retrieve all six letters of the Google logo — but you must avoid the evil Daleks, who will exterminate your chosen doctor if they get the chance.
This incredible Doctor Who-themed Google Doodle is available only on Google New Zealand's homepage for now. Hopefully, they'll roll out this geeky game to the US landing page soon. In the top left of the search results window, Google New Zealand will even show you colored Daleks arranged in Google colors, in place of the traditional yellow, green, blue, and red logo.
If you're a true Whovian, don't miss An Adventure in Space and Time, which jumps back in time (via TARDIS, of course) to the very first season of Doctor Who.