Doctor Who Quiz
Which Who Said It? Put Your Doctor Knowledge to the Test
We're in the midst of a Doctor Who transition, fans. With the new Twelfth Doctor waiting for his debut in this year's Christmas episode, we bid farewell to Matt Smith, the Eleventh Doctor and leading man as the show gained worldwide popularity with packed Comic-Con crowds and collector's edition magazine covers.
But it was also the work of the two previous Doctors before him that got modern-day audiences excited for the quirky time-traveling sci-fi show that actually began in 1963. Think you've seen the adventures of Nine, Ten, and Eleven enough times to tell the words of one apart from the other? Put your Whovian skills to the test in this who said it quiz that looks at the trio's most memorable lines.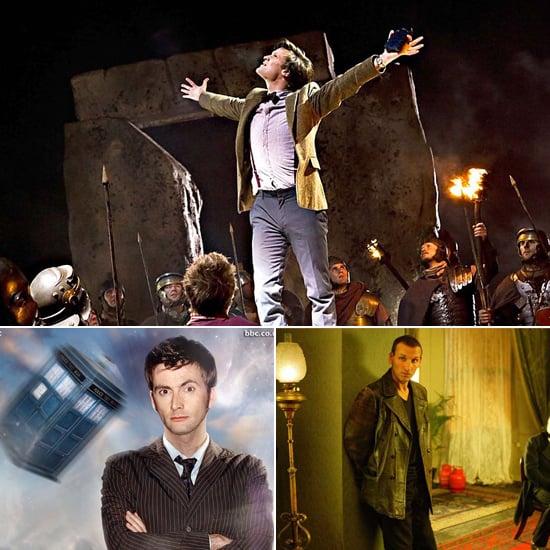 "Everywhere we go, two words, following us: 'Bad Wolf.'"
"Now all I've got to do is pass as an ordinary human being. Simple. What could possibly go wrong?"
"Aw, I wanted to be ginger! I've never been ginger!"
"Oh, I always rip out the last page of a book. Then it doesn't have to end. I hate endings!"
"Fascinating race, the Weeping Angels. The only psychopaths in the universe to kill you nicely. No mess, no fuss."
"I've seen fake gods and bad gods and demigods and would-be gods; out of all that, out of that whole pantheon, if I believe in one thing . . . just one thing . . . I believe in her."
"The ground beneath our feet is spinning at a thousand miles an hour, and the entire planet is hurtling round the sun at 67,000 miles an hour, and I can feel it."
"I just want to tell you: you were fantastic. Absolutely fantastic."
"I'm being extremely clever up here and there's no one to stand around looking impressed!"
"You can spend the rest of your life with me, but I can't spend the rest of mine with you. I have to live on. Alone. "
"I'm not running away from things, I am running to them. Before they flare and fade forever."