Doctor Who and Star Trek: The Next Generation Comic Book Picture
First Look at the Doctor Who/Star Trek Comic Book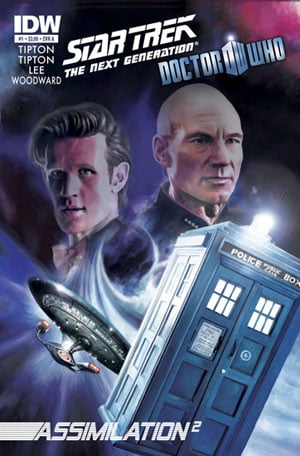 Last week a rumor floated around the Internet that two science fiction powerhouses, Doctor Who and Star Trek would meet in an epic comic book pairing. Now, there's confirmation that Star Trek: The Next Generation/Doctor Who: Assimilation² will reach store shelves in May 2012.
This is the cover of the first issue in an eight-part series following the Eleventh Doctor, Captain Jean-Luc Picard, and his Enterprise crew as they save the galaxy from an evil alliance. Written by Scott and David Tipton and featuring fully painted artwork by J.K. Woodward, the debut issue pairs familiar villains the Borg and the Cybermen in an attempt to destroy humanity.
If the first issue in this crossover series includes some of the most popular villains, we can't wait to see what other frightening forces will make an appearance in the remaining seven issues. The Weeping Angels? Q?