Dog Vacay Boarding Website For Dogs
Website of the Day: Dog Vacay
As dog owners know, the hardest part of traveling is the stress of leaving a beloved pooch at a kennel filled with strange dogs and confined spaces. To save the day is Dog Vacay, an Airbnb for the four-legged set. With a design interface strikingly similar to the human vacation site, seasoned travelers will feel like they've used the site before.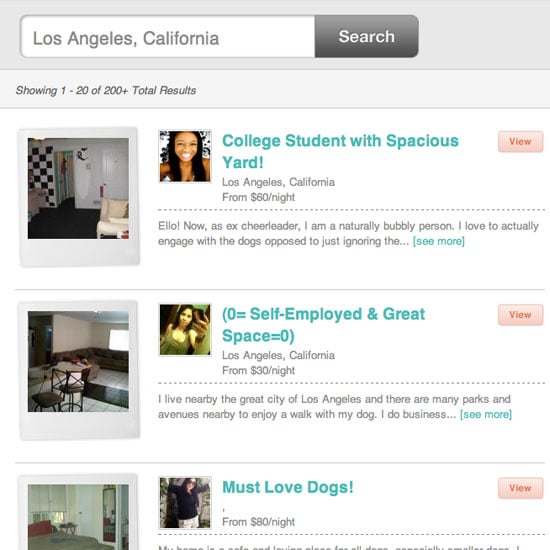 Believing that home dog boarding is the best experience for canines, Dog Vacay matches your pup with a "qualified host" based on the dog's needs and your target price. The hosts are often professional sitters or plain dog enthusiasts and are vetted in an interview process and background check before being listed on the site.
Like Airbnb, your credit card is only charged once you book a reservation and your host accepts. Understandably, meeting who will take care of your favorite friend ahead of time is a concern, so Dog Vacay allows hosts and travelers to arrange an in-person meeting to check out where the dog will vacation before the big day.
Dog Vacay is currently only available in Los Angeles and San Francisco, with over 300 hosts total in the two cities. Insurance, emergency support, and a 24-hour customer line are at customers' disposals for feeling confident their pets are safe and sound.
Would you use Dog Vacay if the service was in your city?