Dots App
Dots Is More Addictive Than Ever — and Available on Android!
Dots (free), the anti-Candy Crush, minimalist addictive mobile game, is making big moves. A new mode in Dots takes the heat off, by allowing 30 moves with no timer. Take your time, play strategically, and get addicted.
The beautiful app by Betaworks has been only available on iOS up to this point, but good news mobile gamers: Dots is now ready for thumbs on Android and Kindle Fire devices.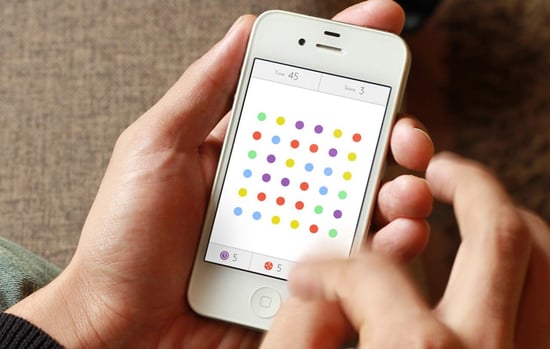 Here's the scoop: you have 60 seconds to connect as many dots by color as possible. As soon as you swipe them away, new dots take their place, like dropping new coins into a Connect Four grid. Tip: if you draw a square with dots of the same color, it removes that color completely, giving you one less thing to worry about. Share your score on Facebook and Twitter, and challenge friends to beat it. Buy dots, if you wish ($5 gets you 50,000) to purchase "power ups" that let you stop the clock, remove dots, or expand the board.
Before you know it, a minute's up, and you're strategizing your next go at it. Is it grade-school easy? Yes. Addictive? Absolutely.