Download of the Day: Apimac Timer
Download of the Day: Apimac Timer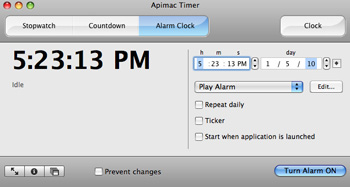 Even though the time is constantly displayed in the upper righthand corner of my Mac, I sometimes find the day completely getting away from me — plus, I tend to work better under pressure. I'm really excited about the latest version of the Apimac Timer, which can be used as a stopwatch, countdown timer, or alarm clock. Want to set a 30-minute limit on your lunchtime web surfing? Just set the countdown for 30 minutes. Want to see how long it takes you to accomplish a certain task? Set the stopwatch. (There's something pretty exciting about working against the clock, don't you think?)
To find out what else is cool about the Apimac Timer, just
.
My favorite feature of this alarm in particular is that you can set it to play any song from your iTunes library instead of some random or annoying alarm clock sound. In addition to song-playing, you can also set the alarm to announce the time or play any sound file, and if you upgrade to the pro version of the application for $30, you can set many of the computer's functions to a timer, like sending emails, restarting or shutting down the computer, and more.
If you don't have an Apple computer, I've mentioned this timer widget for your desktop — also helpful for increasing productivity.
Have you found a cool download-worthy treasure you'd like to share with the rest of us? Create a PopSugar Account or log in to your account. Then join the Download of the Day group where you can submit your favorite downloads and widgets. And you never know, it could be featured on GeekSugar! Here's a detailed guide to posting questions or posts to groups if you are new to the PopSugar Community.