Download Windows 8
How to Buy the New Surface Tablet and Windows 8
Four months after announcing its foray into tablets with the Surface, Microsoft's new gadget and Windows 8 operating system are finally ready for consumer purchase tonight at midnight. The redesigned Windows computing OS builds upon its current Windows 7 mobile products with a tile layout and applications-dominant interface. Here, how to bring Windows 8 and any one of 1,000 Windows 8-ready devices home this weekend.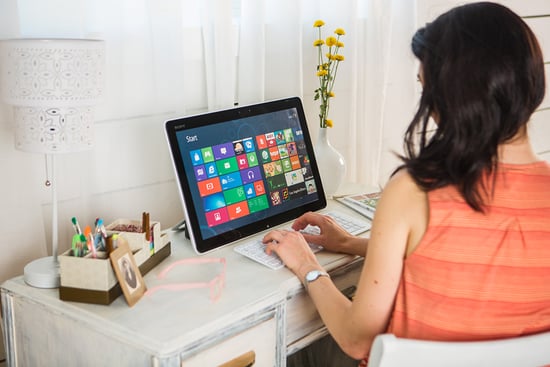 Windows 8
Microsoft Store — Beginning Friday, Oct. 26, at 12:01 a.m. local time, purchase Windows 8 and Windows 8 Pro ($40 for download or $70 for shipment) on the Microsoft online store.
In stores — In addition to brick-and-mortar retailers like Best Buy and Staples, find Windows 8 on Amazon.
On new devices — Microsoft has partnered with tech powerhouses (ASUS, Dell, HP, Lenovo, Samsung) to make over 1,000 tablets, laptops, and desktop computers preinstalled with Windows 8 ready to purchase immediately.
Surface Tablet
Online — Order the Surface now ($499 for 32GB, $599 for 32GB with black Touch Cover, and $699 for 64GB with black Touch Cover) on the Microsoft site, which currently has a one- to three-week shipping estimate. Upgrade to a Touch Cover in red, white, cyan, or magenta for an additional $120 or a Type Cover for $130.
In stores — Line up early at a Microsoft Store near you on Friday and receive a year's Xbox Music Pass (worth $100) with purchase of the Surface.
Do you plan to purchase any of Microsoft's new Windows 8 products?