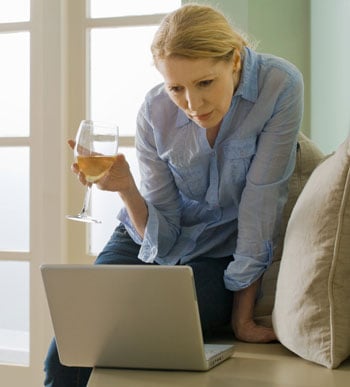 Coming off the most frenzied shopping season of the year, we know how easy purchasing online is compared to wading through mall crowds. But are there times when it's too easy, say, after happy hour when the evening's web deals begin to land in your email?
Online retailers, it seems, are grateful for a new customer profile — the digital tipsy shopper. Web-based stores are seeing an uptick in late-night purchases, which could just be explained as the time when customers are home and online browsing, but anecdotal evidence from The New York Times suggests there are other factors — like a postwork cocktail — at play. With many customers keeping credit card information on file, shopping is easy as two clicks on a smartphone app while still at the office's favorite wine bar or an "Add to Cart" selection from the comfort of home without the real-life interference of taking out a wallet.
Of course, making purchases not remembered the next day can have dangerous repercussions on finances, so drinking and shopping isn't something retailers are claiming to support. Since it is so easy to shop on the cab ride back from drinks or while watching TV with glass of wine in hand, has your happy hour euphoria ever resulted in online shopping under the influence?