Droid 2 R2-D2 Star Wars Edition
Rumor Mill: Droid 2 Star Wars Edition Coming in August?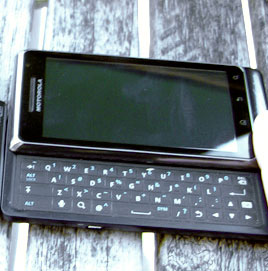 We've been talking a lot about when Android 2.2 will be hitting our favorite Droid handsets but haven't really mentioned the rumors and leaks of the Droid 2 . . . until now, that is. And you'll understand why when you hear this bit of news from the rumor mill: the Droid 2 is supposedly launching on Aug. 12 but will be widely available on Aug. 23 and is said to be coming stocked with a 5MP camera, 8GB of on-board storage, a quick 1GHz processor, and Android 2.2. Great, so what's the big deal? Well hold on to your hats — a tipster is reporting that there will be a Star Wars edition of the Droid 2 coming with a white R2-D2 design on the back. Wow.
The word "Droid" is already trademarked to George Lucas, so I suppose it was only a matter of time before Motorola and Verizon partnered up with the sci-fi giant to create a line of geektastic smartphones. I'm really hoping this tip is solid. I want one!