Is the Droid a Man's Phone?
He's a Droid, I'm an iPhone: Are We a Stereotype?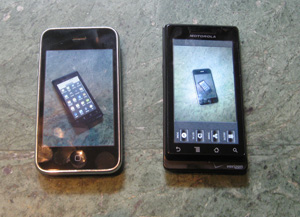 From the beginning, the Motorola Droid has been marketed towards guys. Just let the commercials and advertisements speak for themselves. One even proclaims: "No. It's not a princess. It's a robot. A phone that trades hair-do for can-do." Need I say more?
A recent survey found 73 percent of Android users are male. Couple the guys' love for the OS and the robot-like feel of the phone, and the Droid does seem to be the perfect guy phone.
As much as I want to start ranting about how annoying it is that advertisers think certain gadgets are for guys, and others are for women, I can't. Find out why when you
.
The fact that the Droid is marketed as a "guys' phone" really didn't really cross my mind — beyond the long hair incident, at least — until my BF and I took a day trip with another Droid-iPhone couple. We started joking about our phones, and after a quick discussion, we realized we've only seen a few women with the Droid. I'm not one for polarizing "guy" or "girl" gadgets, but it seems like me and my guy (and our friends) play right into this stereotype. And there's proof in the accessories too; judging by the amount of blingy, sparkly iPhone cases I've seen relative to the number of similar Droid cases (a quick search turned up a few), the iPhone is a lot more feminine. I also think it's a little prettier to look at, but I do love the Android OS. My guy is proud of his "robot" phone, and I'm not ready to give up my shiny, pretty iPhone. I've never felt that gadgets had a gender . . . but I may have to admit to being a part of this stereotype. Any other iPhone-Droid couples out there?
Source: Flickr User scriptingnews