Droid R2-D2 News
Help Find Droid R2-D2 Clues, Maybe Win One For Yourself
Let's be honest — we all thought the Star Wars Droid R2-D2 edition was fake news. I know I did! But now that I've seen the casing, I'm pretty stoked to get my hands on one.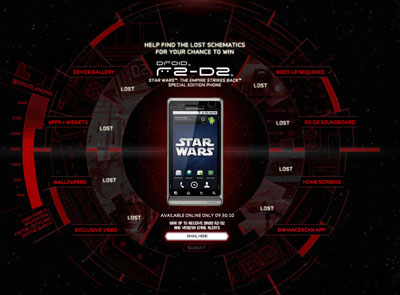 We're still weeks away from the Droid R2-D2 street launch (Sept. 30), but Verizon is making sure we're happily preoccupied until then by sending us on a scavenger hunt to uncover the Droid r@-D2's "lost schematics" — things like photos, exclusive videos, sounds, wallpapers, and the "Enhancescan App," which leads me to believe there will be a special camera or scanner app just for the R2-D2 edition. Be sure to follow the DroidLanding Twitter to get the clues, since Verizon says you could win one for yourself:
Intrepid members of the Alliance who succeed in uncovering the lost schematics will be rewarded handsomely — with a new DROID R2-D2 device. Clues will be dropping soon, in many places and in unexpected ways.