Droid X Ad and Android 2.2 Update
Droid X Ad Kicks Apple While It's Down; Android 2.2 Coming?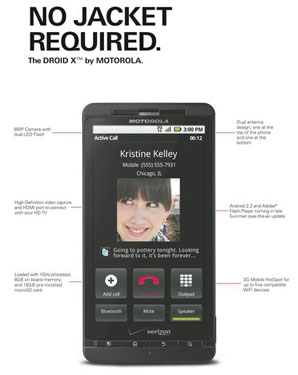 Motorola unveiled a new ad this morning that calls out the iPhone 4's recent antenna situation by telling the world that it doesn't need no stinkin' case. Below the photo you see here, the ad reads:
At Motorola, we believe a customer shouldn't have to dress up their phone for it to work properly. That's why the Droid X comes with a dual antenna design. The kind that allows you to hold the phone any way you'd like to make crystal clear calls without a bulky phone jacket. For us, it's just one of those things that comes as a given when you've been making mobile phones for over 30 years.
Motorola is definitely pushing back after Apple lumped its Droid X in with all the other death grip victims the company showcased during its "Antennagate" press conference. Could this be turning into another AT&T/Verizon battle for the ages?
But that's not all the Droid X excitement for the morning. Find out the other bit of news after the jump.
It appears that a few lucky Droid X owners are seeing the Android 2.2 over-the-air update appear on their handsets. Rumor has it that the coveted Froyo update could be coming in the next few weeks, but we're keeping our fingers crossed that Christmas comes early for newly coined Droid owners and longtime fans alike.