Droid X Best Features vs. Droid Incredible, iPhone 4, and HTC EVO 4G
5 Reasons You Need a Droid X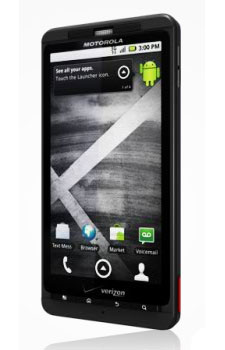 Ever since the Droid X was announced last month, I've been pretty excited to get my hands on one for more than one reason. Five reasons to be exact. You already know how the Droid X stands up to the iPhone 4, the Droid Incredible, and the HTC EVO 4G, but check out five features that set the Droid X apart from the rest of the pack, and make it totally worth the $200 price tag.
Large 4.3-inch display — A majority of you say you love a large display, so the Droid X is perfect for you since you can watch TV or movies with less eye strain while on the go.
Swype — Folks who have already tried the fast texting technology Swype swear by it. It makes composing emails, SMS messages, and documents quick and painless since all you have to do is drag your finger across the keyboard, instead of fumbling from button to button on your touchscreen.
To see the rest of the stand-out features, just keep reading.
Noise canceling abilities — The iPhone 4 may have dual mics for noise canceling, but the Droid X comes with three mics for multi-directional recording, and multi-directional noise canceling abilities.
Photo and video capture — Not only does the Droid X come stocked with an 8MP, dual LED flash, and auto focus, but it also features image stabilization, 720p video recording and playback, as well as slow, and fast motion capture modes.
Android 2.2 and Flash — Android 2.2 is coming to the Droid X this Summer, which will offer up all kinds of amazing upgrades, but also coming later this Summer is Flash 10.1 so you can check out your favorite Flash-based sites right on your phone.