Droid X Death Grip Signal Loss
Verizon's Droid X Is Apple's Latest Death Grip Target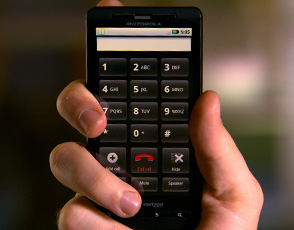 Apparently taking jabs at Nokia, RIM, and HTC at a recent Apple press conference wasn't enough for Steve Jobs; now he's added Verizon's Motorola Droid into the mix. The Droid X is now one of the featured phones on Apple's site displaying how the "death grip" affects all phones, not just the iPhone 4.
After an extremely successful first day of sales — the Droid X sold out online — the device has been receiving many favorable reviews, save one screen issue for which Motorola has already offered a fix. It's even received it's first over-the-air update bringing users new features and improved usability. So, what gives, Apple? After offering bumper refunds and free cases, I figured Apple would quietly improve the iPhone 4's reception for its next release. Apparently not so . . . and Apple is not going to be quiet about it. Is any phone safe?
See what the Droid X "death grip" looks like after the break.