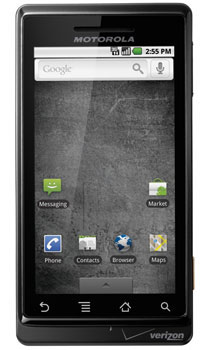 It seems that the Droid X isn't exempt from its own version of Antennagate, only this time it's with the handset's screen. Some new Droid X users are experiencing problems with the phone's large 4.3-inch display — reports of banding (white and black strips running vertically down the display) and wild flickering are the two main issues. Although this problem seems to be contained to a small number of users, Motorola and Verizon are quick to squash any potential PR nightmares and have already issued a statement and fix. Find out what to do if you're experiencing these problems after the jump.
If your Droid X is suffering from these issues, you can call Verizon or Motorola's customer service and receive a replacement phone right away. Verizon has said:
Verizon Wireless and Motorola are aware of a very small number of Droid X units that have experienced a flickering or banding display. Motorola has resolved the issue and is continuing to ship the phones. Any consumer who experiences a flickering or banding display should contact a Motorola customer support center or Verizon Wireless.