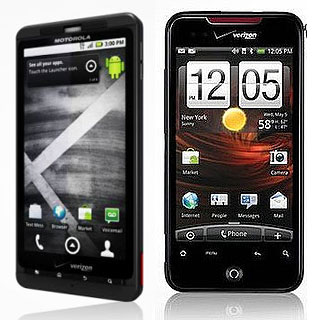 Looks like good news is on the way for Droid X and Droid Incredible owners — an over-the-air update is set to hit your handsets starting today that adds new features to your devices and improves upon existing ones. Android 2.2 is still a ways off (it'll be coming to smartphones later this Summer), but there are plenty of benefits to downloading this new software update. For Droid X customers, you can expect:


Preloaded Kindle app for easy book reading on the go
Enhanced Bluetooth connections
A fresh design on your weather widgets
Improved 3G Mobile Hotspot sync capabilities
Improved battery charging indicator
Faster visual voicemail loading
Smoother camera and camcorder functions
To see what Droid Incredible owners can look forward to, just keep reading.
It seems that Droid Incredible owners are already seeing the OTA update pop up on their phones. Some improvements include:
720p video recording
Skype
MyVerizon app
Droid Red Eye boot animation
Have you seen these over-the-air updates appear on your Droid Incredible or Droid X phones yet? If so, have you noticed a significant improvement in these functions?