Droid X vs HTC EVO 4G
Droid X vs. HTC EVO 4G: How They Stack Up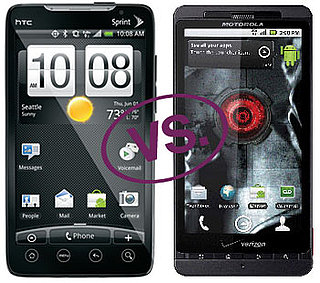 I've already showed you how well the Droid X stands up to the new iPhone 4 and how it also casts a shadow over the popular, but technically inferior, Droid Incredible. Now we're pitting the Droid X against another hard-to-get device: the HTC EVO 4G.
The HTC EVO 4G has been selling like hotcakes, and for good reason — it's quite the powerhouse when it comes to processing speeds, video, and tethering. It even comes in white! But how does it compare to the Droid X? Find out after the jump.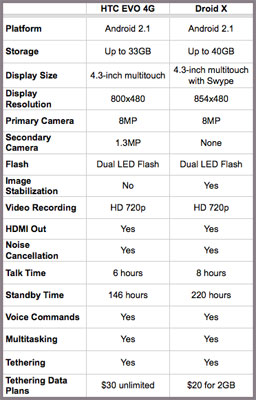 As you can see from the graph to your left, the EVO 4G and Droid X are similar in many ways. One thing not listed here are the processors — the Droid X comes stocked with a 1Ghz Texas Instruments processor, which beats the EVO 4G's 1Ghz Snapdragon processor in speed tests. Meaning, the Droid X is going to be fast — lightning fast.
While speed may be a factor in your decision, it seems that these devices will be comparable in photo and video capture (although the EVO 4G has a secondary front-facing camera for video chatting), movie watching, and tethering; however, you're allowed to tether eight devices at faster 4G speeds on the EVO for a Sprint $30 unlimited mobile hotspot plan, whereas the Droid X can tether five devices on Verizon's 3G network for a $20 2GB plan.
One main issue to take into consideration is battery life. The EVO is said to get about six hours of continuous talk time, but reports have noted that in order to get the maximum amount of life out of your EVO, you'll want to continually shut down open apps, turn off your 4G service, and dial down the brightness. If a dying battery is a nightmare of yours, you may want to seriously consider taking home the Droid X instead.