Droid X vs. Samsung Captivate
Motorola Droid X vs. Samsung Captivate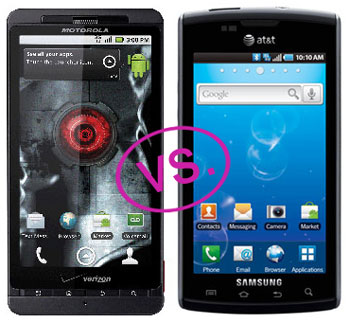 We've already seen how some of the latest and greatest smartphones on the market today stand up to one another, and while the newest kid on the block, the Samsung Captivate, may seem like an underdog, it's got some amazing features hiding behind its outer layers.
And since both the Droid X and Captivate are being released this week (July 15 and 18, respectively), we thought now would be a good time to give you the lowdown on how these two phones compare. Check out the chart, and our breakdown after the jump.
Though we don't yet have any details on battery life or tethering options through AT&T, we do know that the Captivate pwns when it comes to display quality, but comes up short in the camera department.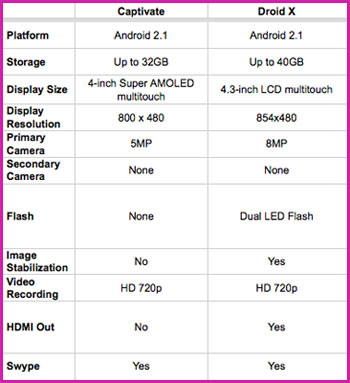 The Captivate features a 4-inch Super AMOLED screen, which gives richer color, quality, and depth than the Droid X's 4.3-inch LCD screen. Additionally, the Captivate supports six-axis sensing (just like in the iPhone 4), while the Droid X comes stocked with a three-axis accelorometer and a proximity sensor. This means the Captivate will be more responsive to your mobile gaming. Bonus — the captivate supports 3D graphics and sound to produce better quality games, movies, and music.
Where the Droid X really pulls ahead is the camera and video department. The Droid X comes with an 8MP camera, dual-LED flash, HD 720p video recording (with image stabilization, slow and fast speed modes), and HDMI out so you can watch your videos on an even bigger screen. The Captivate is missing all of these features, save the HD 720p recording, and comes with a single 5MP camera. As for price, both of these phones will be $200 after any rebates. If you're a big mobile TV or movie watcher, you can't beat the quality of the Captivate's Super AMOLED screen, but my money is still on the Droid X to give a better all-around mobile experience.