Droid vs. iPhone: Which Has Better GPS?
He's a Droid; I'm an iPhone: GPS Edition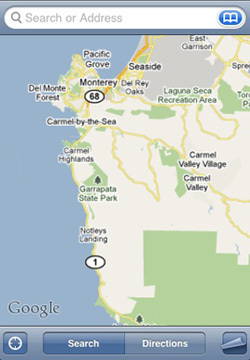 The hype surrounding Motorola's Droid is understandable — for the first time, a phone has really started to give the iPhone a run for its money. Although phones can be polarizing, my guy and I have agreed to disagree on our top phone picks: he's a Droid, while I'm an iPhone.
This weekend, we took a road trip south from San Francisco down California's famed Route 1, and as we approached our first destination, we realized neither of us knew exactly where we were going. It was a race for GPS directions.
Who took home the prize for the fastest directions? Both phones successfully run Google Maps, though the Droid's mapping feature was a bit faster than my iPhone's. However, once we tried to find our way from a restaurant back to our hotel, the Droid and iPhone suggested completely different routes. So which phone won the GPS debate? Find out when you
.
Neither GPS was a standout after meandering our way down the coast, but there was one feature that solidified the iPhone vs. Droid debate; the turn-by-turn directions offered by the Droid. Yes, I admit it: the Droid's GPS is amazing. It talks to you just like any in-car GPS in a sweet and soothing tone (he even named the voice "Svetlana") and you can run the program on any Android 2.0 phone. I highly recommend it.
While the Droid may have won this round of he vs. she, stay tuned for more Droid vs. iPhone stories. His phone is only a few weeks old, so there are many more to come.