Drunk Ron Weasley on Jimmy Fallon
Tweets of the Week from Geeks We Love
This week in the Twitterverse, our favorite geeks were all about fun and games. Actor Simon Pegg channeled his inner Ron Weasley, and Wil Wheaton took his lady love on a geek date. Veronica Belmont also met Ryan Gosling (sort of). See Simon, Wil, Veronica, Ryan, and more in our top 10 tweets of the week from geeks we love.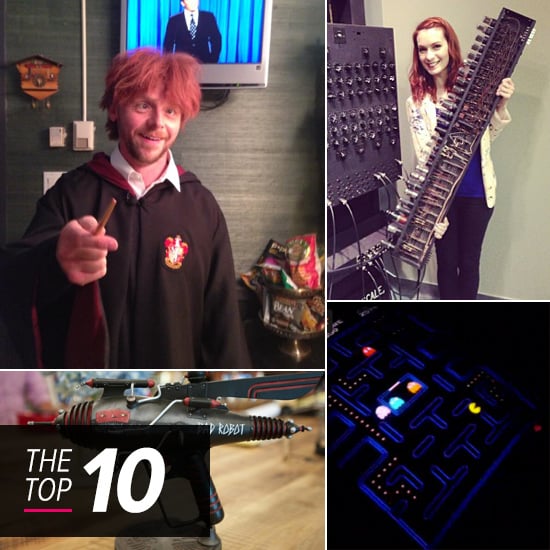 Hey girl, The Sync Up host Veronica Belmont has a message for you.
Feelin' the Sunday slump? Think again. StarTalk Radio host Neil deGrasse Tyson says that something extraordinary is probably coming your way.
The sum of all possible extraordinary events is so high, that a day without extraordinary events in it would be extraordinary

— Neil deGrasse Tyson (@neiltyson) July 26, 2013
More of the geekiest social media messages after the break.
Simon Pegg, writer and star of The World's End, stopped by Late Night with Jimmy Fallon as drunk Ron Weasley to celebrate 'Arry's July 31 birthday.
Alright fine, I am a ginge. pic.twitter.com/N7WrBU6KkS

— Pegg News (@simonpegg) August 1, 2013
Geek and Sundry's Felicia Day pays a visit to ENIAC! It spans 1800 square feet. Times have definitely changed.
Just in time for Shark Week, the long-bodied marine animal devours all of Star Wars Craft Book author Bonnie Burton's love literature.
Giant Shark eats #VaginalFantasy romance books at #VidCon2013! @kiala @Veronica @feliciaday @GeekandSundry pic.twitter.com/0nuiUxUTaL

— Bonnie Burton (@bonniegrrl) August 2, 2013
The bromance between Magneto, also known as Sir Ian McKellen, and Professor X, also known as Patrick Stewart, continues. The two actors are appearing in two plays on Broadway — together! — this Fall.
Sir Ian beat me to work this morning and here is where I found him. @IanMcKellen @TwoPlaysInRep pic.twitter.com/aC1YBOclBn

— Patrick Stewart (@SirPatStew) July 22, 2013
Former Doctor Who companion Karen Gillan buzzed off her locks to play Nebula in the upcoming Marvel film Guardians of the Galaxy.
I can't believe I just got ID'd when I don't look like a baby at all one little bit. pic.twitter.com/S9DTspd5ht

— Scaren Ghoullan (@karengillan) July 30, 2013
Actor Wil Wheaton and wife Anne go on the ultimate geek date.
This is a great date with @AnneWheaton https://t.co/vHlKwyVlaR

— Wil Wheaton (@wilw) July 27, 2013
Director J.J. Abrams gets a ray gun from Weta Workshop, the prop powerhouse behind Lord of the Rings. Pew pew!
We're sure to get up to some intergalactic trouble with this thing. Thanks, @wetaworkshop! #FoundAtBR pic.twitter.com/ZkWH38MrMI

— Bad Robot (@bad_robot) July 31, 2013
Bill Nye the Science Guy enjoys some plant life in Washington, DC.
The US Botanic Garden is at the foot of the US Capitol: Democracy, wind turbine, & Science. pic.twitter.com/LfXbFsXvgc

— Bill Nye (@BillNye) July 31, 2013