E3 Interview With Morgan Webb
Morgan Webb Takes on E3: Past, Present, Future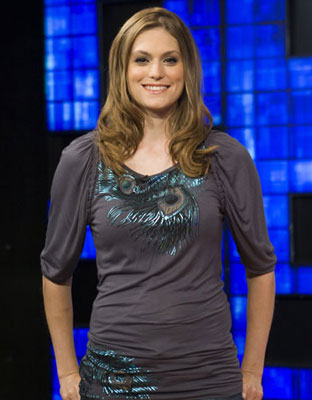 E3 veteran Morgan Webb knows a thing or two about gadgets and video games. She has had her finger on the pulse of the industry far before her hosting gigs at G4TV's X-Play, and G4 Underground — she was also the host of TechTV in 2001 and calls eBay's Cat Schwartz a personal friend. It's no surprise then that I turned to Morgan — who's got hosting duties during G4's week-long E3 coverage — to fill us in on her most anticipated reveals at next week's conference and get some dish on some E3 slipups of years gone by. Find out more about the girl, the games, and the title she's most excited about this year in our exclusive interview.
GeekSugar: How many years have you been attending E3?
Morgan Webb: Ooh, let's see, six or seven?
GS: Any funny or outrageous moments you can remember from past years?
MW: I feel like a lot of really funny and notorious moments usually come out of the press conferences. I'm thinking about some disastrous moments, like the first year that Sony announced the Playstation 3. They put a guy up on stage for what felt like seven hours talking about cell processors. Then there are those moments like when Nintendo announced the first Zelda for the Wii, and everyone freaked out about that because Zelda is such a beloved franchise.
Find out what game Morgan is most excited about, and how she feels about the famous "booth babes" after the break.
GS: Are there any press conferences or big reveals that you're especially excited about this year?
MW: I'm really excited about this game called Star Wars: The Old Republic. It's an MMO set in the Star Wars universe, and it's a really ambitious game. The reason it's so ambitious is because normally in an MMO when you get a quest (or anything happens), there's text on the screen. In this, they actually voice the entire game and it's so ambitious — I can't even tell you how crazy it is that they're doing that. We're actually having a half hour demo of that on stage, and I'm looking forward to asking the questions that a lot of people are curious about. Something else that's potentially interesting is the Nintendo 3DS, which is a DS that has a 3D display, but you don't need glasses to see. We haven't really had a chance to look at it, so we're hoping and anticipating that we're going to be able to see how it works.
GS: Speaking of 3D gaming, how do you feel about that trend?
MW: The problem with 3D gaming is that no one has a 3D TV. It's like asking eight years ago, "What do you think about HD gaming?" and I'd say well, it's cool, but no one has an HDTV! I think making games in 3D right now is sort of a waste of game companies' time because no one is going to be able to play it.
GS: Have you noticed more women attending gaming and tech conferences as you have been all these years or do you still notice a big gap in the male-to-female ratio?
MW: Not really. I mean, on one hand, yes because they have these paid "booth babes," but the women in the video game industry tend to be concentrated into certain groups, which is PR and marketing. It is what it is. It doesn't make women feel particularly welcome when all the Microsoft girls are wearing shorts with their butt cheeks hanging out. It doesn't necessarily make women feel welcome or included, or even necessarily respected in the industry.