EVO 4G Getting Android 2.2 Froyo This Weekend
HTC EVO 4G to Get Android 2.2 Update Starting August 3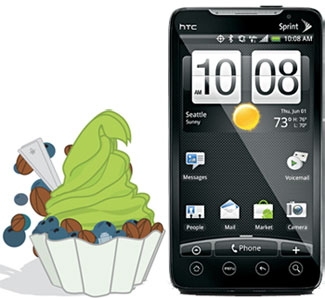 If I had a nickel for every time I heard about the Android 2.2 update coming to another handset "soon" . . . well, I wouldn't be rich, but I'd definitely have an extra few bucks in my pocket. Thankfully, this time it's not a rumor — Android 2.2 is set to be released to EVO 4G users beginning August 3.
As you may know, Android 2.2 comes with a ton of sweet upgrades, including improved browser performance, 4-way camera rotation, but what's more, the Froyo download could also be accompanied by a few over-the-air updates to the handset as well. Find out what they are after the jump.
Possible update enhancements to the HTC EVO 4G include an LED flashlight to use with the EVO's camera, new preloaded widgets, light-assisted video recording, as well as improvements to video quality overall.
Sprint is also allowing a user-initiated download, which allows you to pull Android 2.2 to your phone instead of waiting for the over-the-air prompt (which could take until the middle of August), or hold off and do it at your choosing. To do that, just head to your EVO 4G's Settings Menu > System Updates > HTC Software Update. This will initiate the download process, which should only take a few minutes.