Early MP3 Players
Geek We Love: The MPMan With a Plan
The MPMan was short-lived, but the first MP3 player mass-marketed in the US paved the way for the portable media player revolution. Now that we've gotten to know Kane Kramer, who developed the first MP3 player, and Nathan Schulhof, who created a precursor to iPod and iTunes, it's time to take a look at the history surrounding the MPMan.
Korean electronics company Saehan created and distributed the player in 1998. Michael Robertson, CEO of MP3.com, imported the MPMan into the US and sold it on the MP3.com website. Around the same time, Eiger Labs also imported the player and rebranded it (pictured).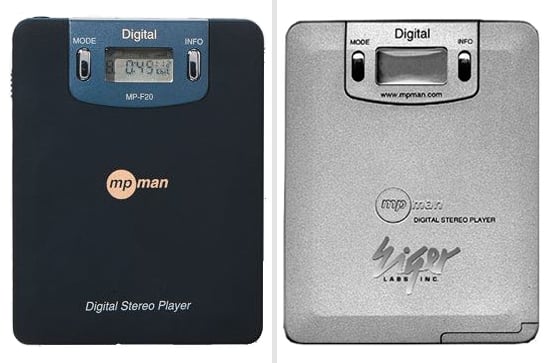 The MPMan came in two versions: the MPMan F10 ($299), which held 32 megabytes, or 35 minutes of music; and the MPMan F20 ($459), which held 64 megabytes, or 90 minutes of music. The player was palm-sized and featured a small LED screen on the front, with the headphone jack and control buttons on top of the device.
Read more about the MPMan after the break.
The release of the MPMan stirred a lot of controversy in the record industry: companies worried that record sales would plummet in favor of pirated music downloaded from the web. While the record industry scrambled to respond to the growing demand for digital files, Michael Robertson fueled the fire in 1997 by launching MP3.com, a free, music-sharing site that gathered the largest collection of digital music files at the time, mostly tracks from independent musicians.
In a 1988 interview with MTV, Robertson explained, "I think it will put a lot of pressure on the music industry to consider digital marketing, distribution and sales avenues. The classic analogy is software. There are many different ways that software is marketed and distributed, and I think there's the same potential for music." Michael Robertson took MP3.com public in 1999, raising over $370 million to become the largest Internet IPO at the time.
However, the success was short-lived. After MP3.com introduced a system for users to register pre-owned CDs and access their streamed online versions of the tunes, the Record Industry Association of America hit the site hard, charging it with unauthorized duplication and copyright infringement. After MP3.com settled for millions of dollars in fines, it was forced to sell to Vivendi Universal, who promptly closed MP3.com's services. Recently, Robertson's latest tech company, a cloud music locker called MP3Tunes, filed for bankruptcy due to similar infringement issues.
Despite the surrounding buzz, the MPMan was not well received in the consumer market, probably because of its difficult transfer process: remember way back when music had to be encoded into an MP3 format before you could transfer it to your device? For the non-tech savvy, this was an excruciating process. So when the Diamond Rio PMP300 came out in September 1998, it quickly overshadowed the MPMan, even before iPod and iTunes had come along.