Eat St. Food Truck App For iPhone
Download of the Day: Eat St. For iPhone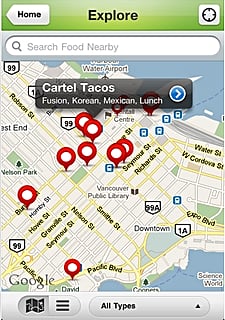 Love food? Love street food more? Then this is the app for you! A new app is being released in partnership with a new show on The Food Network helping you locate the best street food. Eat St. is an app supporting a new TV series with the same name, and enables users to search nearby street food based on proximity, popularity, and type of cuisine.
Vendor locations, hours, menus, specials, even Twitter feeds are easily browsable with the app, and Google Maps integration will even direct you to your truck of choice. Individual vendors can claim their businesses (similar to Foursquare's model) and change their location, add photos, and update menu items. The app comes loaded with over 2,000 street food vendors in 184 cities. That's a lot of street meat!
Download the free iPhone app from the App Store — happy eating!