Eavesdrop iPhone App to Share Music
Download of the Day: Eavesdrop For iPhone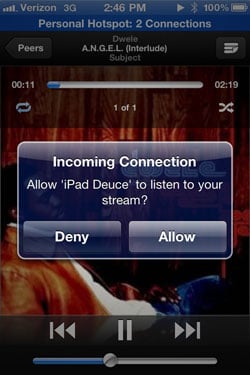 Headphone splitters have allowed us to easily share music with our friends and loved ones, but you can't stay attached at the hip of a friend for too long without getting uncomfortable. Thankfully, there's an app out there that will allow you to share tunes without being tethered to your music-loving buddy.
Called Eavesdrop ($2), this app allows two people to wirelessly share and listen to music between two iOS devices. Find out how it works after the break.
Working with iPhones, iPods, and iPads running iOS 4.2 or later, both users must download Eavesdrop from iTunes. After a quick install, a listener can access from a streamer. After approval, both users can listen to the same tunes at the same time over a WiFi or Bluetooth connection. The streamer has access to controls (play, skip, back, repeat, etc.), while the listener can control volume on their end. Early reviews say the app performs well between devices, with just slight hiccups occurring at connection.