Eco-Friendly Travel Tips
Singapore Hotel Goes Green With Tech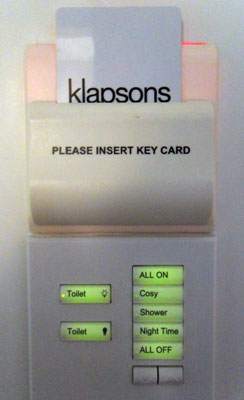 My friend PetSugar was lucky enough to stay at the Klapsons Boutique Hotel in Singapore recently. Currently on Condé Nast's Hot List, it was a designer's dream — filled with sleek and modern furnishings where no two rooms are the same — but friendly to tech-toting geeks, offering free in-room WiFi, LCD TVs, DVD players and PlayStations upon request. Besides the fun tech amenities, each room is equipped with a smart power hub, like the one pictured here. This hub requires the entry of your room key in order to control lighting, heat, air conditioning. even the shower, to help reduce power and stop waste.
Let's face it — vacations are where we pamper ourselves with treats we wouldn't normally get at home. But this tiny addition in a luxury boutique hotel proves that you shouldn't toss all of your green efforts out the window just because you're on holiday. Keeping your water and power usage top of mind while at a hotel can really help the business keep costs down (which translates to lower rates for you), while easing the pressure off mother earth as well.
I've got a few geeky tips of my own to eco-fy your vacation travels. Find out what they are when you read more.


Unplug before you unwind — Before you leave home, unplug all unnecessary items, like your TV, stove, lights, and computer that suck up power like vampires even when switched off.
Take public transportation — Whether you're deciding on how to get to the airport, or getting your bearings in a new city, there's no better way to help the planet than taking public transportation. See what the locals see!
Fly direct — Save on emissions from secondary stops (landing and taking off requires a lot of fuel!) by choosing a direct flight when possible.
Ditch the disposable camera — Quit being so cheap and invest in a nice (and affordable) digital camera instead of using disposable ones. You'll not only save money in the long run (from initial purchase to printing costs), but you'll keep the disposable camera out of the landfill, and save trees from being made into photo paper.
Have any green travel tips of your own? Share them with us here!