Eco Friendly Wedding Tips
Eco-fy Your Wedding!
In honor of Earth Day (and wedding season here on PopSugar Network) we're serving up some easy and simple ways to make your wedding just a bit more earth friendly from a geek's perspective. These days, getting down with protecting Mother Earth can be simple.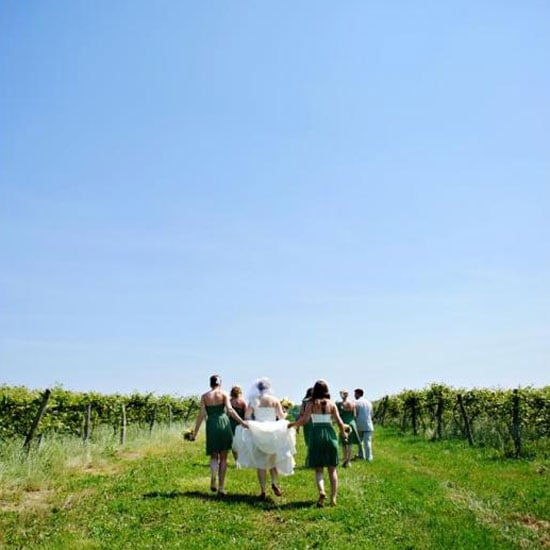 From your wedding shower, to the big event and to all the details in between, little changes can certainly help our planet and our pocketbooks! Making your wedding eco friendly has never been more simple (and surprisingly) cost effective. Besides, wouldn't you rather spend all that extra cash on the honeymoon, or better yet? That flat screen HDTV you've been eyeing? Go, Earth!
Invites - We've already talked about how a wedding website can save you time, money, and the planet, and since all of your ceremony and reception information is in one place, no one will be losing the details on your big day. Allowing your guests to RSVP directly on the site at any time can reduce or negate the need for paper invites. However, if you are a traditionalist and want to send out your dream monogrammed paper invitations, make sure your paper is 100 percent recycled.
For a few more tips, just keep reading.
Favors - No more mint candies in little bags from the earth friendly couple! There are lots of online options for some pretty unique and planet saving wedding favors. For example, The Arbor Day Foundation offers gift trees for your guests to plant, and nurture, just like your marriage! Or, you can send your guests away knowing that you have donated funds in their name to a charity of your choice, with the help of great charities like I Do Foundation.
Go Green With Transportation - Why take separate vehicles and burn all those fossil fuels when you can double, even or triple-up in something like a stretch limo? Or better yet, rent lots of hybrid cars instead of getting that earth un-friendly Hummer your hubby has been longing for.
Rings - Sorry to be a "Debbie Downer," but If you haven't seen the film Blood Diamond, I suggest you take a gander before purchasing that rock you've dreamed of since you were a little girl. Times have changed and it's imperative that you make sure you aren't getting a diamond at the cost of someone's life. Research where your diamonds come from before you buy, whether it's online or from a store, or even consider going for a man made gem. Also, since mining for gold does a number on the earth's ecosystems, consider recycling your old rings that you aren't wearing, and turning them into a new piece that you can enjoy forever.
Photos - Printing a ton of wedding photos for everyone isn't just a waste of money, but it's bad for the environment as well. You can easily email your captured memories to friends and family (or upload them to Flickr or a cloud storage service like DropBox for access), who can then print only the images they want to frame and hang. Simple, easy on the environment, and super cheap.
Source: Flickr user Corey Ann