Egg Watchers Plays Funny Videos While You Cook
Website of the Day: Egg Watchers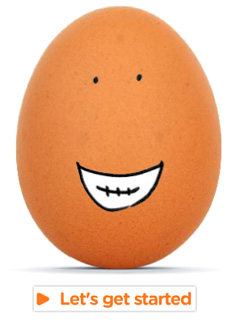 Besides facilitating a perfectly cooked egg every time, London-based site Egg Watchers is "the egg timer that entertains you." While the site is hilarious in itself, it's particularly useful when trying to make the perfect boiled egg. First, select the size of egg you want to cook, then whether or not it's straight from the fridge (since cold eggs take longer!). Finally, choose how you want your egg: runny, squidgy, or firm. After entering your preferences, egg watcher tells you how long it'll take to boil your egg. Then click "Start the timer" for a funny video lasting exactly as long as your egg should be boiling. So far I've seen: an epic drum solo, a stage production of Star Wars, and an arrogant voicemail left for a woman by a sleazeball who tried to pick her up at a bar.
While this would be too distracting for me to use as an actual timer, the concept is cute. For now, I'll stick to using my iPhone alarm, but the site's design is adorable and the videos are a riot.
Do you have an interesting website you want to share? Create a PopSugar Account or log in to your account. Then join the Website of the Day group where you can post your favorite website! And you never know, it could be featured on GeekSugar! Here's a detailed guide to posting questions or posts to groups if you are new to the PopSugar Community.