Eisner Awards 2013
Will Eisner Awards: The Winners of the "Oscars of Comics"!
The winners of the 2013 Will Eisner Comic Industry Awards were announced at a gala ceremony held during Comic-Con International: San Diego, at the Hilton San Diego Bayfront, on Friday, July 19. An Eisner award is the highest honor that can be bestowed upon a comic book illustrator, writer, or letterer. It's named after Will Eisner, the prolific comic book pioneer behind The Spirit, and the ceremony has taken place in San Diego every year since 1991.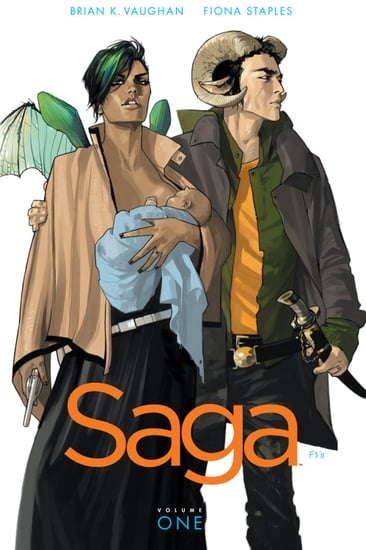 Eisner Award organizer Jackie Estrada said that Eisner wanted the awards to be "central to the fans and central to the creators." Its purpose should be to "let the world know how fabulous the graphic storytelling medium is," she said at a Comic-Con panel. "It's not just the winners — it's the nominees, too."
Jackie shared some fun numbers from over the years: Neil Gaiman has won 14 Eisners, Frank Miller has won 12 times, letterer Todd Klein has been nominated 18 times and won 18 awards, Chris Ware has been nominated 64 times, and Alan Moore has been nominated 46 times.
This year, Saga by Brian K. Vaughan and Fiona Staples and Building Stories by Chris Ware were big winners. Saga picked up three Eisners for writing, best new series, and best continuing series. Building Stories received best new graphic album, publication design, writer/artist, and lettering.
View all the nominees and see a complete list of winners below. Let us know if your favorite comics of the year got the recognition they deserve!
Highlights
Best New Series — Saga, by Brian K. Vaughan and Fiona Staples (Image)
Best Graphic Album: New — Building Stories, by Chris Ware (Pantheon)
Best Humor Publication — Darth Vader and Son, by Jeffrey Brown (Chronicle)
Best Publication For Kids (Ages 8 to 12) — Adventure Time, by Ryan North, Shelli Paroline, and Braden Lamb (kaboom!)
View the complete list of winners after the break.
Best Short Story — "Moon 1969: The True Story of the 1969 Moon Launch," by Michael Kupperman, in Tales Designed to Thrizzle #8 (Fantagraphics)
Best Writer — Brian K. Vaughan, Saga (Image)
Best Single Issue (or One-Shot): — The Mire, by Becky Cloonan (self-published)
Best Continuing Series — Saga, by Brian K. Vaughan and Fiona Staples (Image)
Best Publication For Early Readers (Up to Age 7) — Babymouse For President, by Jennifer L. Holm and Matthew Holm (Random House)
Best Publication For Teens (Ages 13 to 17) — A Wrinkle in Time, by Madeleine L'Engle, adapted by Hope Larson (FSG)
Best Digital Comic — Bandette, by Paul Tobin and Colleen Coover (Monkeybrain)
Best Anthology — Dark Horse Presents, edited by Mike Richardson (Dark Horse)
Best Reality-Based Work (tie) — Annie Sullivan and the Trials of Helen Keller, by Joseph Lambert (Center For Cartoon Studies/Disney Hyperion); The Carter Family: Don't Forget This Song, by Frank M. Young and David Lasky (Abrams ComicArts)
Best Adaptation From Another Medium — Richard Stark's Parker: The Score, adapted by Darwyn Cooke (IDW)
Best Graphic Album: Reprint — King City, by Brandon Graham (TokyoPop/Image)
Best Archival Collection/Project: Strips — Pogo, Vol. 2: Bona Fide Balderdash, by Walt Kelly, edited by Carolyn Kelly and Kim Thompson (Fantagraphics)
Best Archival Collection/Project: Comic Books — David Mazzucchelli's Daredevil Born Again: Artist's Edition, edited by Scott Dunbier (IDW)
Best US Edition of International Material — Blacksad: Silent Hell, by Juan Diaz Canales and Juanjo Guarnido (Dark Horse)
Best US Edition of International Material: Asia — Naoki Urasawa's 20th Century Boys, by Naoki Urasawa (VIZ Media)
Best Writer/Artist — Chris Ware, Building Stories (Pantheon)
Best Penciler/Inker (tie) — David Aja, Hawkeye (Marvel); Chris Samnee, Daredevil (Marvel), Rocketeer: Cargo of Doom (IDW)
Best Painter/Multimedia Artist (Interior Art) — Juanjo Guarnido, Blacksad (Dark Horse)
Best Cover Artist — David Aja, Hawkeye (Marvel)
Best Coloring — Dave Stewart, Batwoman (DC); Fatale (Image); BPRD, Conan the Barbarian, Hellboy in Hell, Lobster Johnson, The Massive (Dark Horse)
Best Lettering — Chris Ware, Building Stories (Pantheon)
Best Comics-Related Periodical/Journalism — The Comics Reporter, edited by Tom Spurgeon, www.comicsreporter.com
Best Comics-Related Book — Marvel Comics: The Untold Story, by Sean

Howe

(HarperCollins)
Best Educational/Academic Work — Lynda Barry: Girlhood Through the Looking Glass, by Susan E. Kirtley (University Press of Mississippi)
Best Publication Design — Building Stories, designed by Chris Ware (Pantheon)
Hall of Fame — Lee Falk, Al Jaffee, Mort Meskin, Trina Robbins, Spain Rodriguez, Joe Sinnott
Russ Manning Promising Newcomer Award — Russel Roehling
Bob Clampett Humanitarian Award — Chris Sparks and Team Cul deSac
Bill Finger Excellence in Comic Book Writing Award — Steve Gerber, Don Rosa
Will Eisner Spirit of Comics Retailer Award — Challengers Comics + Conversation, Chicago, IL