Election Results 2012
2012 Election Map: Follow the Results as They Come In
While you're watching PopSugar's live presidential election viewing party tonight, starting at 7 p.m. EST/4 p.m. PST, follow the nail-biting electoral college results online with the mother of all election maps at Politico's 2012 Election Central. As the night goes on, Politico will populate states with red or blue, indicating Republican or Democratic wins in political races across the nation. Election Day buffs can view the site's automatic updates in map or table form and filter results by state.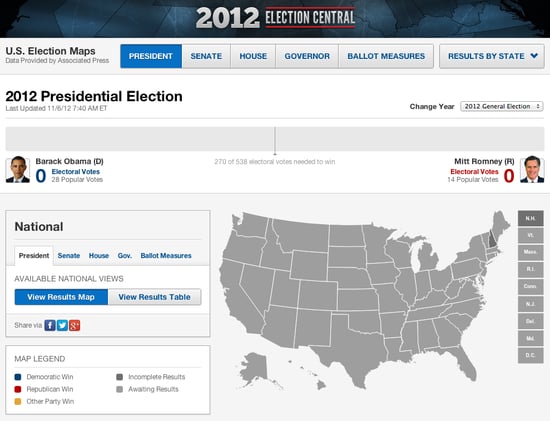 The presidential, Senate, House, and governor races aren't the only contests heating up this election — key measures on same-sex marriage in Maine, Maryland, Washington, and Minnesota are being determined today as well. Politico has interactive coverage for ballot measures by state too, with live "yes" and "no" results on pivotal state propositions.
We've got an hour-by-hour breakdown of the states to watch after the break.
Look for the results of tight races in these key states on Politico's Presidential Election Map:
7 p.m. EST/4 p.m. PST — Virginia
7:30 p.m. EST/4:30 p.m. PST — Ohio and North Carolina
8 p.m. EST/5 p.m. PST — Florida, New Hampshire, Pennsylvania
9 p.m. EST/6 p.m. PST — Colorado, Wisconsin, Michigan, Minnesota, Arizona
10 p.m. EST/7 p.m. PST — Iowa, Nevada