Electronic Devices Like the iPad May Cause Sleeping Problems
Why Your iPad Is Keeping You Awake at Night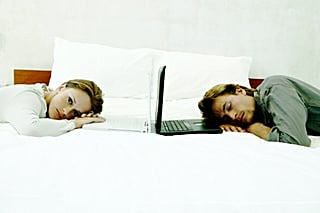 Picture this: it's the end of the night and you're lying in bed watching a movie on your iPad, or using your laptop to catch up on email. Sound familiar? Well, if you're one of the countless individuals who have trouble sleeping at night, this scenario may be the reason why, reports CNN. If you think about it, it makes sense: falling asleep with the lights on is generally pretty difficult, and the average person's circadian rhythm is set to wake them up a few hours after sunrise. Phyllis Zee, a neuroscience professor at Northwestern University and director of the school's Center for Sleep & Circadian Biology tells CNN:
". . . If you're using [the iPad or a laptop] close to bedtime . . . that light can be sufficiently stimulating to the brain to make it more awake and delay your ability to sleep."
While experts advise turning off all electronics by 10 p.m., they say that using a Kindle or watching TV is preferable over devices like a laptop, smartphone, or iPad because computer screens emit a lot of blue light, which is especially common during the day. If all else fails, there's always going the route of a good old-fashioned book.