Embarrassing Video Chat Story
Tech Dating 101: My Embarrassing Video Chat Story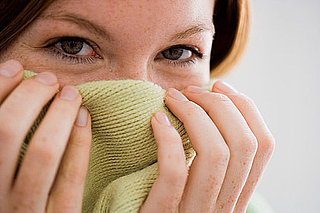 Major win for technology and dating: iChat with video, Google video chat, and FaceTime. My guy and I both have packed schedules, and between our work and our families on opposite sides of the country, there are some weeks we see more of each other via video chat than we do in person. When we're at home (or at least, away from other people), video chatting is fun. But there are some days when one of us is stuck somewhere (like an airport) for hours, and we need to sneak in some chat time. Convenient, yes. But the embarrassment factor? High.
So in this installment of Tech Dating 101, read my story and share your own after the break.
During one such stuck-at-the-airport moment, I happily plopped myself in a corner and opened my laptop to video chat. There weren't too many people around, so I wasn't that nervous. Then, as my guy and I started talking, he gave me some huge news — he got a serious promotion at work that is a huge personal and professional deal. I was so happy for my guy, I squealed — loudly — and rambled on for 30 seconds about how proud and excited I was, and how I couldn't wait to come home and celebrate. My eyes actually filled up with (happy, proud) tears at one point. Then I looked up to see a crowd of five onlookers, watching me dole out lavish praise.
I sheepishly smiled and half-waved at the crowd as my face turned beet red. My guy laughed, of course. I can't be alone here . . . tell me, have you ever had an especially embarrassing video conversation?