Epic Mickey Wii Controllers
Epic Mickey and Paintbrush Controllers Go Hand in Hand
Demoed extensively at this year's E3 conference, Epic Mickey tells the tale of Mickey Mouse after he is flung into a place called Wasteland.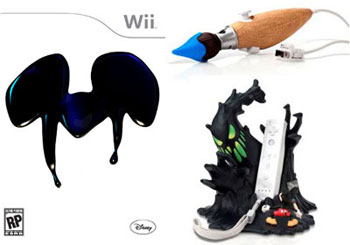 This twisted version of the Magic Kingdom is ruled by Oswald the Lucky Rabbit (Mickey's half-brother), and Mickey must make his way through the land — using a paintbrush to fill in colors, elements, and battle foes, while splashing paint thinner to take things away — to ultimately go toe to toe with Oswald and the massive Phantom Blot. It's totally appropriate then, that players of Epic Mickey would use a Wii controller that looks like a paintbrush.
That's exactly what third-party manufacturer PDP has created in its cartoon-like paintbrush Wii controllers. Find out more about them after the break.
Each controller comes with a soft foam tip so kids of all ages can get in on the gaming magic, and snap on for easy Wiimote access. There's also a spooky-looking Phantom Blot controller cradle to add to your collection. After seeing this accessory, I'm even more excited to get my hands on the game (and the controller!), and I think it's going to be a big hit among players young and old. Although the controller has no pricing info or release date set, Epic Mickey is slated to appear this Winter, just in time for your holiday shopping excursions. Check out a few more screenshots of Epic Mickey below!