Etch A Sketch iPad Case
Etch A Sketch Case: Vintage Geek For Your iPad
Regardless of its potentially impractical size or weight (remember how heavy the Etch A Skech seemed when you were a kid?), I love this iPad case! The Headcase Etch A Sketch iPad Case ($39) is an officially licensed Etch A Sketch turned iPad case just in time for the classic toy's 50th birthday.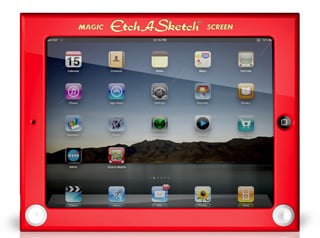 The case is made of durable plastic, with rubber feet and a felt backing to keep your device safe. There are also specially cut holes in the case to allow access to all buttons and ports on your iPad. The back even features a retractable stand that allows you to prop your iPad at a typing-friendly angle.
I was a huge Etch A Sketch fan as a kid; I love that this vintage favorite has resurfaced in a fun new way!