Etsy Gift Cards
Handmade Heaven: Etsy Launches Gift Cards
Etsy, the go-to marketplace for all things handmade, recently launched what it's calling the "choose-your-own-adventure" gift. Just in time for the holidays, Etsy gift cards are now available for US customers at etsy.com/giftcards, in increments of $25, $50, $100, or $250 — making it a perfect gift for the treasure huntsman or craft connoisseur in your life who is impossible to shop for.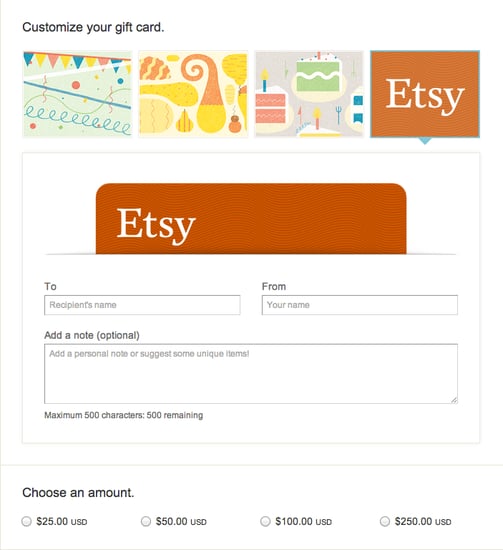 The cards can be emailed or printed out and easily redeemed on the Etsy website, but not all shops will accept the gift card. Etsy's new search function now filters products that can be redeemed with gift card credit, and a small green gift icon will appear in shop profiles that do accept the gift card.
Plus, if you purchase a gift card before Nov. 14, you will be entered to win $250 to spend on Etsy. Well, that takes care of half our shopping list.