Evernote Moleskine Notebook
Moleskine's CEO on Taking an Analog Icon Into the Digital World
The original rectangle with rounded corners isn't the iPhone — it's the Moleskine notebook. In a definitive collection of the 1,000 most iconic products in the world, Moleskine stands at number 17 among such high-minded brands as the Rolex Oyster and Porsche 911.
At the 2013 Evernote Conference on Sept. 26, the classic writing journal was remade into a modern marvel, with the announcement of its second Evernote collaboration: a premium Sketchbook ($33) and a lined Journal in three different sizes.
Arrigo Berni, Moleskine CEO
Evernote, an explosive five-year-old software startup, and Moleskine, an Italian paper goods brand steeped in cultural tradition, seem more like natural rivals than successful collaborators.
After Thursday's Evernote keynote, we sat down with Moleskine CEO Arrigo Berni to get a better understanding of technology's newest odd couple. Arrigo believes there's no blood to be shed between digital and analog products, because they actually offer each other more value. "Consumers don't see a conflict between digital and paper. Rather, they use [both] paper products and digital products depending on the occasion and what they need."
Digital Versus Paper
The two are not mutually exclusive, in fact a Moleskine owner is more likely than a non-Moleskine owner to also use digital devices to take notes, according to Arrigo. When the paper goods company asked customers, "What's in your bag?," most carried a laptop, tablet, and smartphone along with their Moleskine diary or journal, and Arrigo pointed to my own set up as an example. I was recording our interview through my phone, and even though my MacBook was on my lap, I chose to jot down quotes with a traditional notebook. Paper does have infinite battery life, after all.
Moleskine's chief executive sees the prevalence of both digital and physical instruments in his own life, with his kids. "They're 11- and 12-year-olds and, to them, technology is just a fact of life. They have no judgment about the digital or physical worlds. They play their video games, they have a smartphone, and they have the same joy when they play with Lego."
The Elephant in the Room: Partnership
Evernote launched their first collaboration with Moleskine in 2012, with a notebook in the classic Moleskine style and a customized cover designed specifically for Evernote. The bound diary, which came in ruled and grid versions, was distinctive because of its "smart stickers" that, when captured via camera in the Evernote app, could be identified as certain tasks or tags.
"Our consumer is going back and forth between digital and analog all the time, so we had to start thinking outside of our box . . . We wanted to allow people to move content from paper to digital then back to paper in an easy and seamless way. This is what our consumers wanted," Arrigo explained.
Paper doesn't have rules, it doesn't need to be set up, and you don't need to control + "S" paper every five minutes. But it isn't searchable, shareable, or archivable in the digital sense, which is where Moleskine and Evernote stepped in.
"We decided to work with Evernote . . . because we were looking for a partner that would go beyond the boundaries of what they do to create more value for the customer."
But Evernote isn't Moleskine's first foray into the virtual space. The company has been flirting with digital features for some time. There's an official app for iPhone and iPad in the App Store, complete with classic ivory pages, and an online MyMoleskine community with artworks scanned from physical Moleskine pages.
"At Moleskine, we don't sell paper. It's about the heritage of creativity. Moleskine connects you with Hemingway, with Picasso, with the great creators of all time, and it's through this object that you are connected with your own creativity. So this is why Evernote chose Moleskine."
Evernote Sketchbook
The 2013 Evernote Sketchbook ($33) has thicker 120-gram paper and a new dotted grid pattern. Like the classic version, the notebook comes with smart stickers and three months of Evernote premium.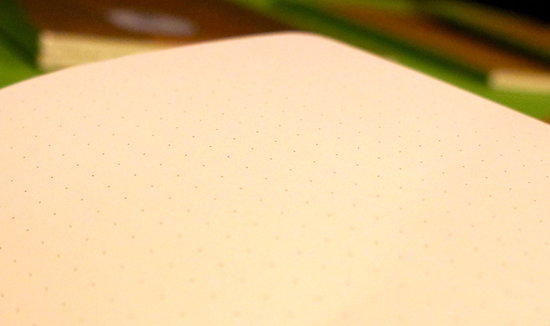 Evernote Journal
The more affordable Evernote Journal ($12 — $25) is available in three different sizes (extra large, large, and pocket) and two different page types (dot ruled and dot grid). The cardboard cover notebook includes smart stickers, complimentary Evernote premium for a limited time, and 64 pages.