Everyday Photography App For iOS
Download of the Day: Everyday For iOS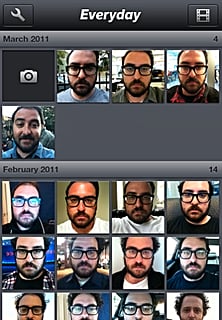 Love those photo-a-day videos set to music that end up showing how a person ages over time? (Like this one, which I think is the original and most recognizable.) Or, completely creeped out by them but still intrigued? Now there's an iPhone app for that! Everyday for iOS works on your camera-ready iPhone, iPod Touch, or iPad 2, prompting you via push notification to take a photo of yourself every day, align it with the grids, and eventually create a time-lapse video of yourself — or your dog, or a plant, or anything else you're tracking and photographing over time.
You can publish photos or videos to Facebook, Twitter, Tumblr, or Flickr directly from the app, or set the app to upload them automatically. Download Everyday from the App Store for $2.
Check out a funny video demo after the break.