Expensive Cell Phones
Vertu's Year of the Dragon Phone Will Set You Back $20,000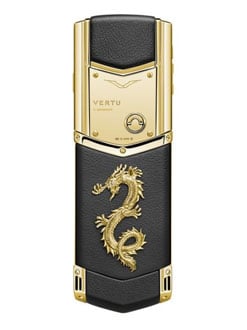 In Chinese astrology, the dragon signifies luck. And you'd be lucky to have enough cash to acquire the Year of the Dragon smartphone. In honor of the upcoming Lunar New Year, Vurtu has crafted a luxurious mobile phone with a price tag that will have you breathing fire: $20,815.
Coming in three different models with stainless steel, yellow gold, rubies, diamonds, emeralds, and a hand-crafted dragon adorned on the battery cover, the (rumored) Symbian-running device will be produced in very short supply in Asia only, but will come with a perk not usually associated with mobile phones — one free year of concierge service.
Though, the Dragon phone has nothing on the world's most expensive cell phone, which was priced at 1.2 million dollars.